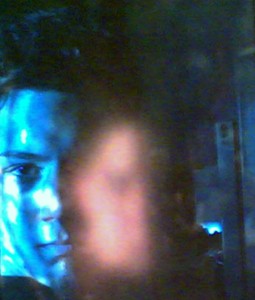 Avawari alias Alexis Rauch
Birth: 1982 (Graz)
Home: Austria
Contact: alexis[at]avawari.com
Freelance artist in: fine arts, electronic music production, mixed media art and actionistic interventions.
My general intention is to educate the public about earth as a self-organizing system, whose stability mankind is dangerously disturbing. The goal is to perpetuate awareness for this fact, to encourage people to accept and appreciate the complexity of our dynamic environment in the infinite universe, infinite in space and what is time supposed to be? I wish people would make this knowledge (and knowledge of lack thereof) part of their daily lives, so we can find ways of sustainable living. We oughta search fast.
My art throws a spotlight on the borderzone between "nature" and man-made (or indeed -destroyed) "humanosphere". It shows fictive extremes warning us of the consequences of ignoring the impact of our actions. The art should also serve the purpose of generating money to on one hand finance further projects, on the other hand be donated to selected NGOs dedicated to the conservation of our environment.
Electronic Music (Experimental, DnB, Jungle, Chillout, Ambient):
In my tracks, which are mostly speechless, I express issues, states, events that move or accompany me in life, from environmental devastation to heartbreak, fantastic and fictional stuff, critic of society and even glorification (of i.e. the universe, nature, etc.)
Education:
2009-2011 graduation Master School of Painting, Graz (Ortweinschule)
June 2002 graduation Technical College of Art and Design
1996-2002 Technical College of Art and Design (Ortweinschule), Graz
1992-1996 Junior High School Webling, Graz
1992 Lichtenfels High School, Graz
1988-1992 elementary school of the Diocese of Graz – Seckau, Graz
Exhibitions:
03/2010 Im Spiegel Afrikas, Galerie Kon-temporär, Graz
05/2010 Chronoesc, Kulturwerkstatt, Graz
06/2010 Voila des Insects, Kunstgarten, Graz
12/2010 Chronoesc, Die Nische, Graz
since 11/2011 permanent Exhibition, Restaurant Regina Margherita, Graz
03/2012 Blauer Planet, Graz
06/2012 Charity Event of the Vampire Diaries Convention in Vienna, Gazometer (picture auction)
11/2012 First Styrian Vampire Con, PPC,Graz

Homepage Design: Leitner Christoph
Translation and Revision: Daniel Hofstadler
Logo: Mike Fidel